Contributors: Rachel Jamison and Aaron Yeager.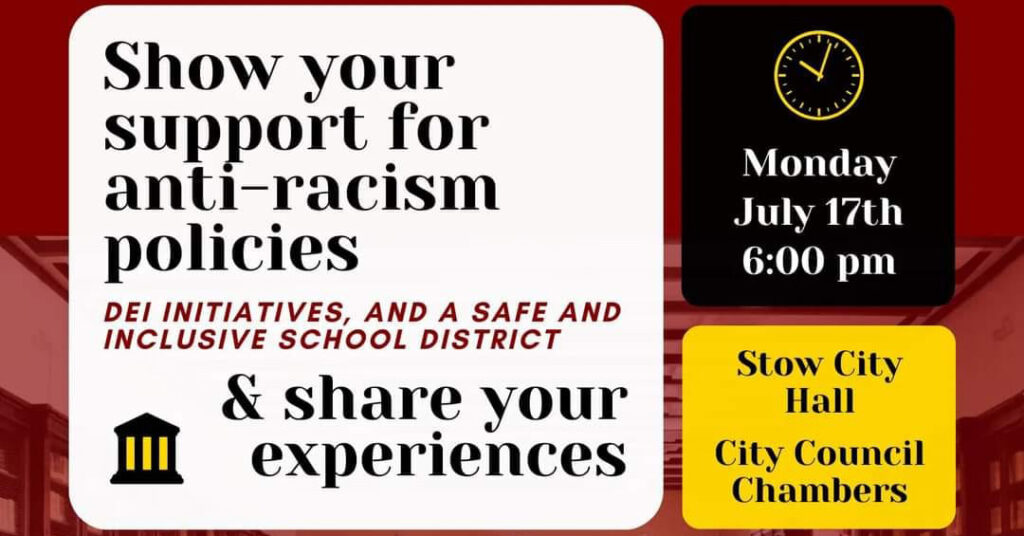 The Stow-Munroe Falls Board of Education will soon vote on the Anti-racism Policy, which continues to face pushback. Opposition has been VERY vocal, so please consider sharing and coming to speak in support of it — this is an opportunity to share our experiences, and make our voices heard.
What is it?
The Policy outlines crucial steps to establish and sustain a school community that shares the collective responsibility to confront, eliminate, and prevent actions, decisions, and outcomes that result from and perpetuate racism. This includes curriculum and instruction, training and professional development, and policy enforcement.
You can view the latest draft of the Policy, which was attached to the June 26, 2023 Board of Education meeting agenda, below.
What can you do?
If you wrote a letter to the Board back in 2020, please consider coming to the meeting, or writing in support of the Anti-racism Policy. If you click the button below, it'll start a new, blank email to the entire school board, as well as the superintendent and assistant superintendent.
Lastly, if you don't feel comfortable attending the meeting or contacting the Board, we can read your letter anonymously, on your behalf — email us at hello@sc4c.org. Thank you for your support!